Our Dogs – Extended Family
We are pleased to introduce our extended family of goldens. We take what we do seriously enough that we want to continue to improve the breed. When we have an exceptional pup born to one of our best females we home it with a carefully selected family. It becomes theirs, but we keep the breeding rights. We are very excited about the opportunity it gives us to improve the breed by carefully selecting and promoting the desired golden genetics. It's a win-win for the selected family, for us and the lucky girl dog.
Please go to K9data.com and type in the exact name of any of our dogs to get their full health and genetic report
Please be introduced…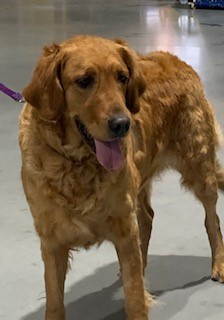 GJ's Nala Ginger: CKC Reg No: FU780530.
Nala is the daughter of Scarlet and Sirius George. Nala lives on an acreage with a young family in the Linden area. "Lovely" describes her. She has her mother's gentle, friendly nature as you can see in the picture, she is concerned about the little bird. Nala has her father's quirky playful attitude. Her thick coat is beautiful, rich, and dark bronze. She is on the larger size for our females, around 65 lbs.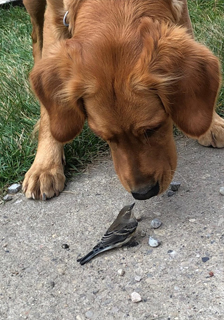 Havens Sirius George: CKC Reg. No: DL660257.
George is residing in Prince Rupert at this time with his caretaker. He's a lucky guy to be able to go swimming in the bay whenever he wants to. He'll be a travelling boy as he will have to fly back and forth a couple times a year to keep things happening at Chinook Goldens. His exceptionally dark rich coat is outstanding. He stands tall, dark and handsome, and weighs in at about 75lbs. George is very interactive, loves retrieving and has the energy of youth in him. He is a little careful when introduced to something new, which isn't a bad thing. George was graded as EXCELLENT on his hips! Elbows are normal and the ophthalmologist said his eyes were perfect. These were graded by OFA – Orthopedic Foundation for Animals in the U.S.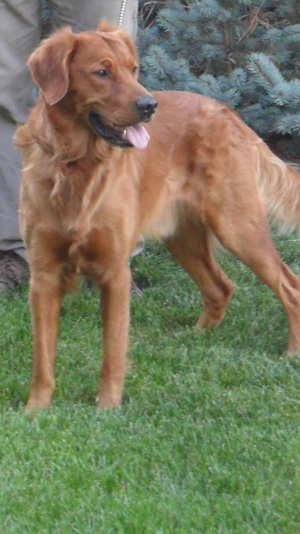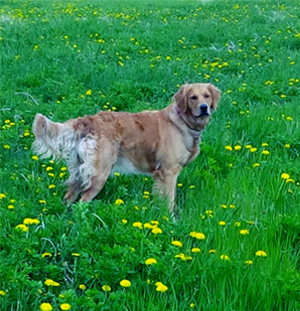 SD's Tiree Alainn: CKC. Reg. No. DL660284.
Tiree has a beautiful coat of soft wavy medium golden hair. Her eye's give you the feeling that she feels deeply. She is cautious by nature, has energy to burn and yet loves her place on the couch. That is the golden personality that we look for.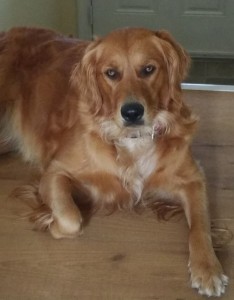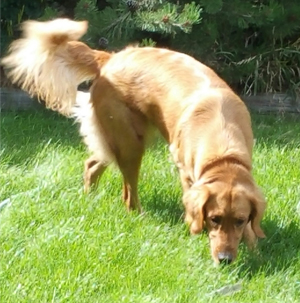 Scarlet TK: CKC. Reg. No. DL660282.
Scarlet was chosen by us from a pup because of her beautiful form and personality. She is very connected, self-assured and ready for fun. She is homed with an active family which includes several young children. It's great to see how Scarlet and their little girl interact so well. Obviously she is a great companion dog like goldens are supposed to be. Scarlet stands fairly tall, is medium gold and has sleek straight hair.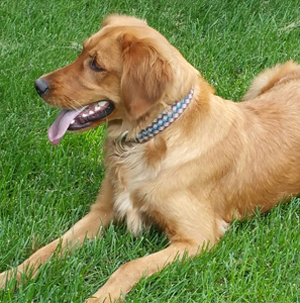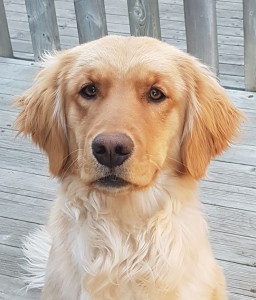 GJ's Holly Jo: CKC. Reg. No. FA741623
Holly Jo is our little doll girl of about 50 lbs. She is blondest of our dogs with multi-coloring in her pretty coat. She is an active, self assured little golden. Holly is very affectionate and connected.  Her father is Guy William and she has inherited his smarts as well as those beautiful intelligent eyes. Holly has the wider forehead of her mother Rhoda Bree. She resides in a family setting on an acreage near Airdrie.
Kova – Johnson CKC Reg. No. DL660283 / DOB 13-June-2106.
Kova is a petite little girl doll of a retriever. Her father is Guy William and she has inherited his smarts as well as those beautiful intelligent eyes that everyone notices. She loves people and wants nothing more than to please them. She is slender, petite and very athletic. She would make any hunter proud, but does well by the fireside too. She would hardly tip the scales at 50 lbs. As you can see she has a soft blond- gold coat. She resides in the Sundre area with a family that includes small children and count her as one of the family.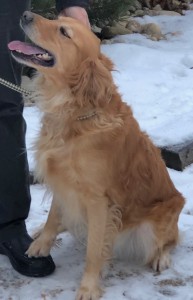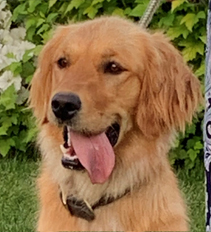 GJ's Kenna D'Or – CKC Reg. No. FJ761612
Kenna D'Or is rightly pictured here. She looks like she is ready to spring into action. Not serious action, just goofy action. Fun is a good word for her. She is very affectionate and just wants to play. Kenna lives on an acreage here in our community with a family that has small children. We love to have her visit as she is very social. She is medium to lighter colored; slender and medium height as far as goldens go.