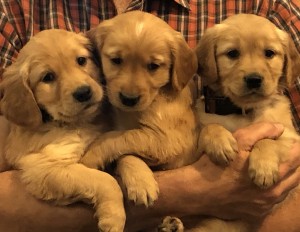 Rhoda Bree and Guy William's litter which arrived June 4th are now about 7 weeks old.  Rhoda's whole crew of 7 males and 7 females all passed with flying  colors at the vet this past week. They are a great bunch of pups! They are now weaned from Mom. I am getting them on an eating schedule so they will be ready to go home soon. I will be spending time with them this week working on their little temperaments and deciding which pup is a match for which home. Rhoda's  pups are all spoken for.
Zeena and George's pups came into this world on June 25th. They are now almost 4 weeks old. They are out in the larger area now and getting lots of exercise which they needed! They are gnawing on the puppy kibble but Mom is still main staple. They are practicing their little puppy barks and clumsily play fighting. They are a very beautiful little bunch of pups! This pretty little litter is all spoken for.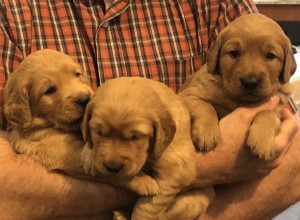 George and Canyon's litter arrived on July 3rd so they will soon be 3 weeks old. They are waking up more and waddling around their little pen. They are free to call for Mom when they think it's time for her to get into their little box. I will let them experiment with kibble as soon as their little teeth peek through, which should be towards the end of this week. This is a very pretty little litter of goldens! All are spoken for.