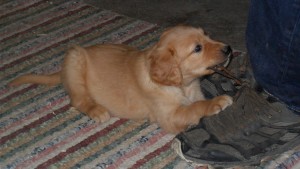 Here is a sample of one of Zeena's pretty pups. She is now learning how to tie (or is it untie?) shoes:) The whole litter was at the vet this week and all passed the grade! They are now done with Mom and eating very well on there own. So now we start the very serious process of "Choosing the right pup for the right arms"  This is the final update on this litter for this site. Sorry, this beautiful litter is all spoken for.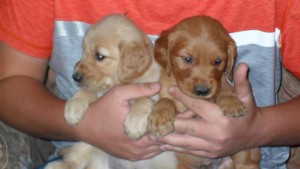 Autumn Gold's pups at 5 weeks old. They continue to eat from both both Mom and kibble. They are the gate begging for  some human interaction and being that they are so cute it isn't hard to give it.  they will be off to the vet on October 23rd.  Sorry Autumn's pups are all spoken for.
Arya's pups are now 3 weeks old and getting plumper by the day. They are doing their favorite thing in this picture. They are very serious about getting enough to eat. Within the next week they will be sampling moist puppy food. They are already practicing their little voices. Sorry her pups are all spoken for. Please see our upcoming litters page.