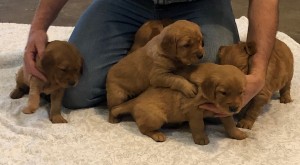 Here is the litter of Scarlet and Pep. (Updated Nov 9, 2019) Scarlet is of our blood lines and Pep is from Goldwing kennels. These pups arrived October 8.  They are now 4.5 weeks old.  They are eating puppy kibble and drinking water very well by now. Of course they still love Mom the best but don't totally depend on her anymore.  They love human connection and are full of little kisses (licks). We are starting to take them out to bigger spaces. Scarlet is a great mom with a wonderful, interactive gentle personality. Please see her profile under our "extended family" page. Pep, pictured on the right,  is a  solid guy. He's calm and gorgeous. His OFA hip rating is good and elbows and eyes are normal. Scarlet's pups are all spoken for.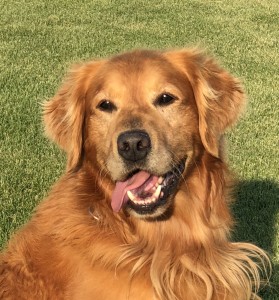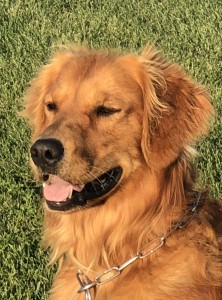 (Updated Nov 9, 2019) Holly Jo's pups arrived the same day as Scarlet's! Her mate is PJ the son of Pep. She has 10 perfect little goldens. They love to chomp on the puppy kibble but still Mom is their primary source of everything. We are spending time with socialisation. We don't have to draw them out, they just are born loving the human touch.  Barks and growls can be heard as they are finding their voices. Holly Jo's sweet nature and outstanding eyes and PJ's beautiful form and intelligence, pictured on the left,  has resulted in a great choice of golden pups to choose from. PJ's OFA hip rating is excellent and elbows and eyes are normal. Please see Holly Jo's profile under "extended family". We have a few available pups from this litter.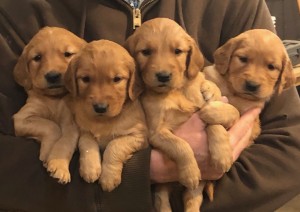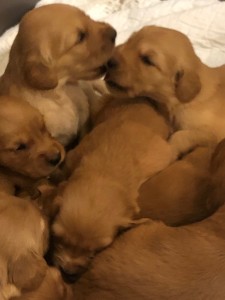 (Updated Nov 9, 2019) We are excited to announce the arrival of Guy William and Autumn Gold's 10 little golden babies! They were born October 21. Autumn seems to hardly be keeping up with their appetites so I will be starting them on moist, enriched puppy kibble. They are healthy eaters and no wonder with the energy they already have.   Please see the parents profiles under "our dogs". There are several available pups from this litter yet.