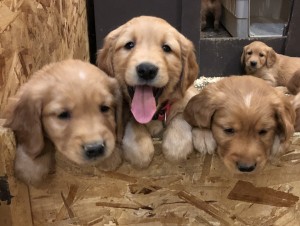 Zeena and Guy William's litter of perfect little babies was born December 10th. This makes them 6 weeks old on Monday. They have an appointment at the vet on Monday to get a health checkup and first set of shots. Janelle will be in touch with the new owners after that to arrange homing dates. The pups don't really need Mom so much at this stage but she still visits.  This litter is all spoken for.
Autumn and Guy William's new litter of goldens arrived December 27th. They are three and a half weeks old in this picture. As you can see in the picture they have really woke up and are a lively little bunch already.  They are practicing their little voices and shout out their little demands for their mother. I will introduce kibble in the next couple of days. Mom's milk will still be their main diet, of course. Mom is in perfect condition as are the pups. Autumn's litter is all spoken for.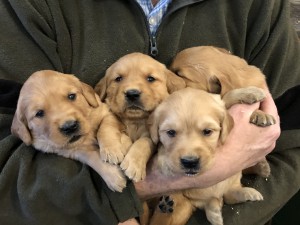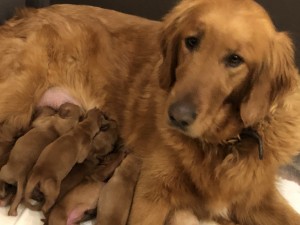 Arya and Will's golden pups arrived early this morning, January 19th. All is quiet so that means that Arya is doing a good job of keeping her little family well fed. We still have both males and females available from this litter.