Our Dogs – Extended Family
We are pleased to introduce our extended family of goldens. We take what we do seriously enough that we want to continue to improve the breed. When we have an exceptional pup born to one of our best females we home it with a carefully selected family. It becomes theirs, but we keep the breeding rights. We are very excited about the opportunity it gives us to improve the breed by carefully selecting and promoting the desired golden genetics. It's a win-win for the selected family, for us and the lucky girl dog.
Please go to K9data.com and type in the exact name of any of our dogs to get their full health and genetic report
Please be introduced…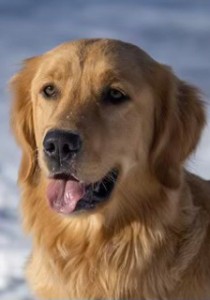 GJ's Dakoda by Storm. CKC. Reg. No: HG3995561 / DOB: 13-APR-2020
Dakoda, or 'Koda as she is called, is one of the most beautiful goldens we have owned. Her father is a British show retriever, Kaiko's Gift from IDAFAB kennels, and her mom is our Stormy Canyon. She is a perfect blend of the American and British strains of the golden retriever. She has the strong, well chiselled head of the British retriever, and yet not quite so heavy, and the agility of the field retriever. She is very affectionate and a quick learner. She lives in the mountains and loves the outdoors. She is fairly tall and medium in color. She is clear on all her genetic testing as well as heart and eyes. Her PennHIP score is .31 and .51. Elbows are normal on her preliminary report. We look forward to seeing her pups as they should be of some of the best of the breed!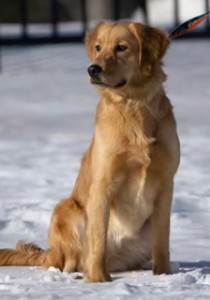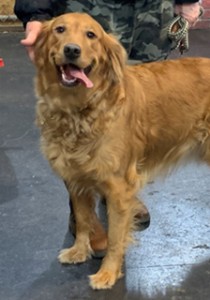 GJ"s Akita of Scarlet: CKC Reg. No: GU3969092 / DOB: 08-Oct-2019
Akita is a favorite with the grandchildren of her caregivers, as you can see. At about 75 lbs she is fairly large for a field retriever. She is dark, has a beautiful strong sculptured head and winning stance of the retriever. Her pups will be good for any direction you want to take them, including therapy or hunting. She has a playful side to her and loves children. She is self assured around other dogs and new situations. Akita's OFA rating on her hips/elbows are "Good". As well as her heart and eyes clearances.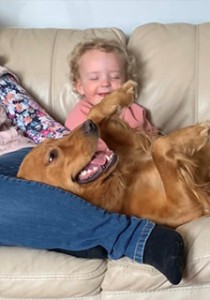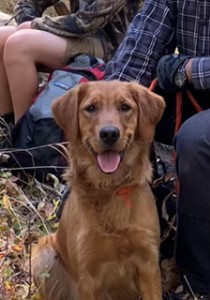 Goldwings My Favorite Color Is Autumn: CKC Reg. No:HW4066172 / DOB: 27 NOV-2020
Autumn comes from excellent hunting background. We placed her with caregivers that would provide her the opportunity to master her skills with bird hunting. You can see the intelligence radiating from her bright eyes. Autumn is petite, dark, smart and beautiful. She has a lot of get-up-and-go but also can be quiet as you see in the picture. She is a full sister to both Phoenix and Journey, though not a litter mate. Her OFA for her hips is graded as "Good" and her elbows normal. Her heart and eyes OFA certificates are also both clear.