Here's our Golden Family!
Please go to K9data.com and type in the name of any of our dogs to get a complete health and genetic report.
Please be introduced…
GJ's Chica Bonita! CKC Reg. No: HU4034063 DOB: 30-Oct-2020
Chica Bonita is Spanish for "Pretty Girl" which is the perfect name for our little lady. She was carefully chosen from our favorite, Rhoda Bree's, litter. She passed all her genetic tests and is considered genetically clear. She is petite, beautifully dark and athletic. She is a quick learner and wants to please. Her key trait would be connection. On the trail she has good energy which she expends in quick bursts and then returns to her favorite position which is right behind or beside me. She has this little excited whistle so I can always tell when she is behind me. Chica is about 55lbs. (As seen in the picture, she has this little grimace she makes when she is intent on something).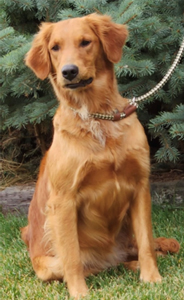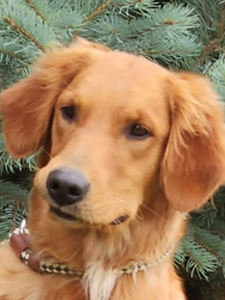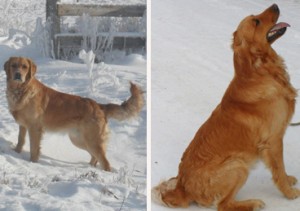 Guy William! (USA) CKC. Reg. No: 1130944 / DOB: 03-Oct-2014. Will comes from a line of trophy hunters from Wyoming. His perfect form  and alertness reflect his great bloodlines. He is extremely well connected and seems to sense what is expected of him.  Will has a beautiful blend of light to medium color. He stands tall and is about 86 lbs. His outstanding features are his posture and his beautifully shaped head with intelligent eyes. Will is the definition of social. He loves people!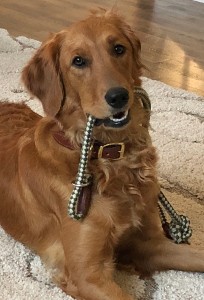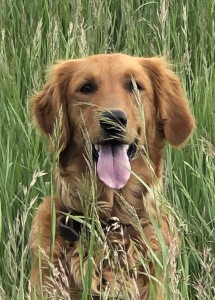 GJ's Stormy Canyon: CKC Reg No. ES723763 DOB: 01-Sep-17. As you can tell in the picture, Canyon is kind of a spoiled dog. She shares a bedroom with our daughter. Being the off-spring of Zeena she is slender, petite, and athletic,  You can see the intelligence in her shiny dark eyes which are so much like her fathers, Guy William. Canyon has an exceptionally dark and glossy coat. She has a lot of spunk and is ready for action, and yet loves to stretch out on the living room carpet and chill out with the family. She is very self-confident and ready to interact with anyone who pays her attention. We call her our sports model of a golden retriever. Canyon is about 50 lbs.
Goldwing's Phoenix Boy: CKC Reg. NO. FD-GY4034064 / DOB: 23-Dec-2019. Phoenix Boy, or 'Nix, as we usually call this handsome guy has just what we desire in our goldens. You can see the intelligence in the shine of his dark eyes. He comes from excellent pedigrees. If you look on K9data you will see that his father, Goodngold's Toss Up, held the records for Canada's championship hunt and obedience trials. He has energy but keeps it very controlled. 'Nix is my working buddy. He is great with the seniors and anyone else who will accept his friendship. He is exceptionally calm for a young male dog and yet is all boy when we are out in the field. 'Nix simply is the epitome of what a golden retriever should be. …Well, he does have one fault. Like any brother, he likes to pick on his sister for some reason. We are very excited about adding his bloodlines to our team. 'Nix is clear in his genetics. You can view the details under K9data. He has eye and heart certification through OFA and also hip and elbows preliminaries done by OFA which were graded as good. So, he's off to a great start!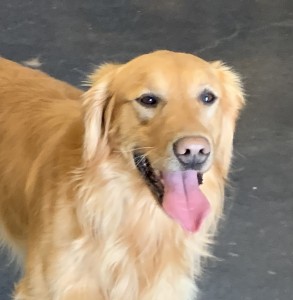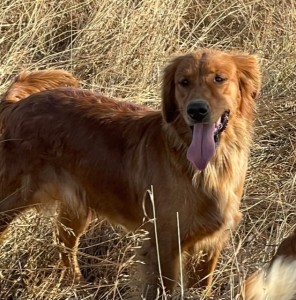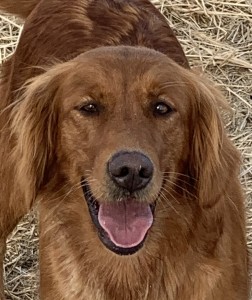 Goldwing's Got A Journey On My Mind: CKC Reg. No FD-GY4034065 DOB: 23-Dec-2019. Journey, as we call her, has the perfect golden retriever temperament. She is darkest of my dogs and has such beautiful intelligent, almost questioning eyes. You just cannot resist her! Her outstanding point is her temperament. She is so gentle and the calmest retriever I have seen, and yet has plenty of stamina and energy for the field. I plan to use her for therapy purposes because she is so patient and connected. On the other hand she would make an excellent hunting dog due to her keenness and drive. She is just a very special dog… She shares the same outstanding pedigree as her brother Phoenix as you will see if you look her up on K9data. She did great on her health clearances and genetic testings.
GJ's Chinook Marley: CKC Reg. NO. GL813406 DOB: 04-Jun-2019. Our Marley is our littlest, cutest and blondest golden retriever. She has a way of just getting right into your heart. She is a bundle of friendly energy. She has a way of wiggling up to you and getting what she wants. She has great potential to be used in any work you would choose for her. She is very social with people and other dogs alike. As you can see in her picture she is one of those happy dogs. Her parents are Guy William and Rhoda Bree so that gives her great bloodlines to fall back on. She has her health clearances as seen on K9data.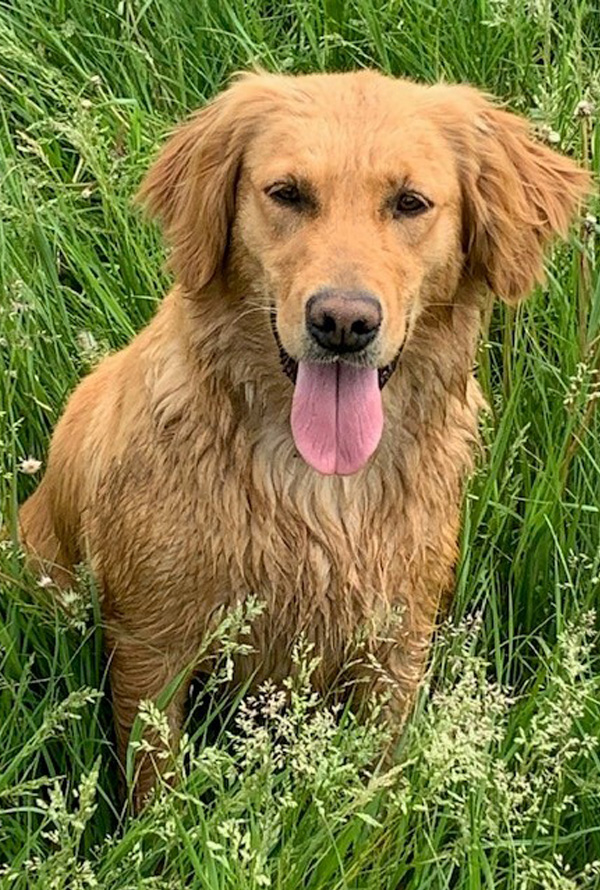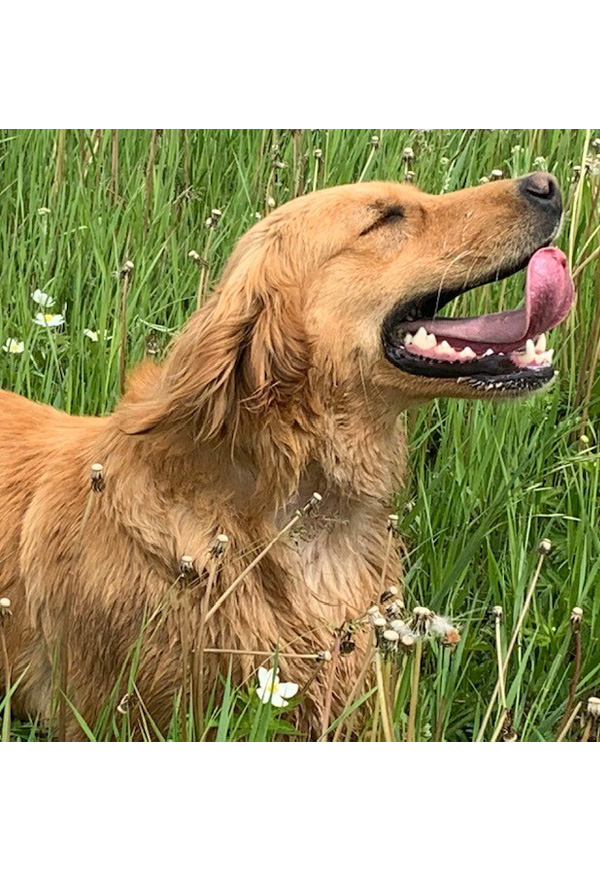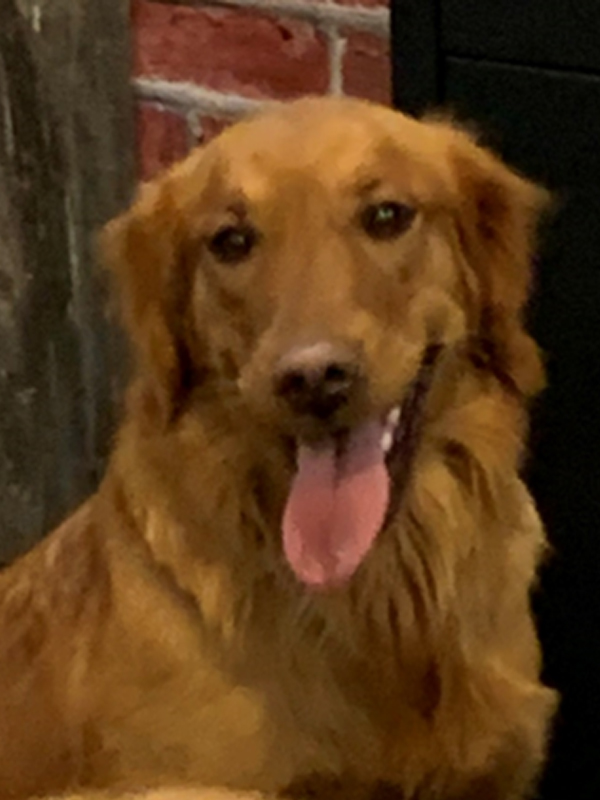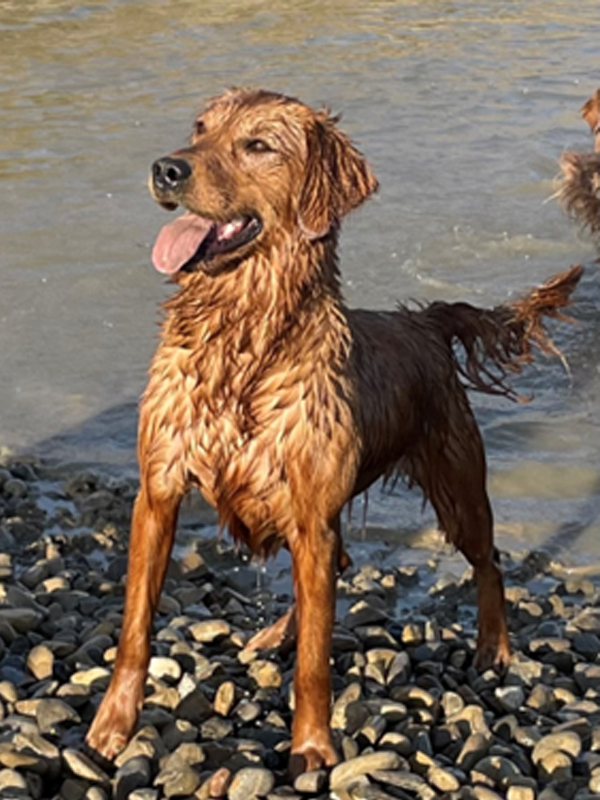 GJ's Smokin' Ember. CKC. Reg. No: HY4051420 / DOB: 16-DEC-2020. Our stunning Smokin' Ember is a little mischief. She loves to get the action going with the other dogs when we are out on the trail. She is very dark like her mother Scarlet. She's medium size at about 60lbs. She has a strong, well-defined head and there is something of curiosity in her gaze. While having good energy she also is a quiet dog which is what we look for in our breeding program. With her self confidence she would do great in most kinds of work and also just being a family companion dog. She is certified with OFA for her eyes and heart. We are waiting for her hip/elbow results.