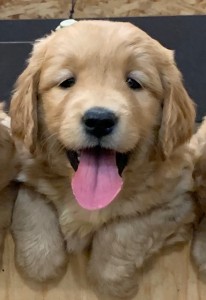 Here's how to go about purchasing one of our quality Golden pups!
When you have carefully reviewed our website, including "All About Us" and are possibly interested in adopting one of Chinook Golden's pups please fill out the "Adoption Application" form and submit it to us.
If we feel like you would be a good candidate for one of our pups we will contact you personally for a discussion on the phone. If you and we feel comfortable with our conversation we will invite you out for a visit. We very much appreciate if the whole family comes as it does help us to get a better picture of which pup would be the best match for your home. If all parties feel comfortable to move into an adoption then we would expect a $500 non-refundable down payment to hold a future pup. This is only refundable on the occasion that there is no pup available from the specified litters. Note, the price of our pups is from $1800 – $2100 depending on the breeding  plus GST. This includes the registration with CKC and  micro-chipping.
You will be notified when the successful breeding has taken place.  When the pups are born you will again be notified. From there you will receive weekly pictures and updates on what stage the pups are at.
When the pups are on their 8th week and have been to the vet and microchipped, we will allow the buyers to visit and we will introduce them to the pup that we feel is best suited to their family.  Note we do take this part of puppy choosing very seriously.  We require that the pup will continue with its current diet of raw and kibble blend for the first days in its new home. We will prepare you for this. At this time the pups can go home with their new owners. We will communicate with the new owners ahead of time to ensure that they are prepared for their pup.
Thank you!