Holly Jo and Kaiko's Gift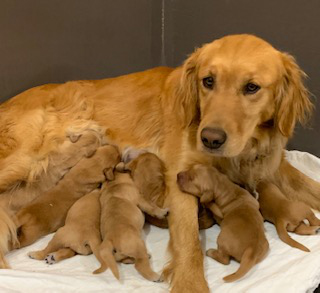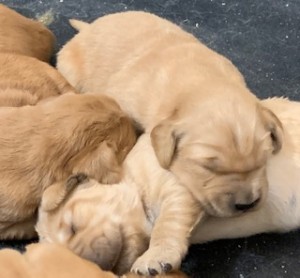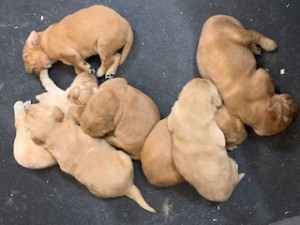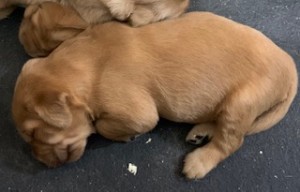 Holly Jo and Kaiko's litter arrived December 26th. There are 4 males and 3 females in this beautiful golden family. Holly's pups are really waking up. They are learning social skills with one another and softly mouthing and rolling over each other. They are 3 weeks today so in a couple of days we will start them on raw puppy starter from CompleteK9. They are a very content little litter. Mom is doing a great job of being Mom.
You will find Holly Jo on this website under Our dogs – extended family.
Kaiko (OneDrDog Kaiko's Gift) is from IDAFAB kennels and here is what her owner Jane says of him. "Kaiko is a superb example of what a typical Golden Retriever is, and what I am trying to produce. Kaiko is a boy that has done well in the show ring and also in the field. In the summer of 2018, Kaiko took Best Puppy in the Show and also achieved his Working Certificate. Kaiko is a delight to train and be around. He is happy and well mannered. Kaiko has no allergies."
Both Holly Jo and Kaiko can be found on K9Data. Please use their official names to pull up their profiles.